Vance Wilson
Vance worked at four independent schools before becoming the Head of St. Albans School in Washington, DC, where he served for 19 years.
Vance Wilson has been a teacher, coach, dorm supervisor, department chair, dean of faculty, division Head, associate Head, and Head of school. He worked at four independent schools before becoming the Head of St. Albans School in Washington, DC, where he served for nineteen years. He received his B.A. from Yale College, a Diploma from Trinity College, University of Dublin, and his M.A. from the University of Virginia.
He has served on a number of boards and associations, most notably as the chair of the Academic Services committee of NAIS and Independent School's editorial board, and as the President of the International Boys' School Coalition. He was the co-investigator of the Klingenstein Programs at Teachers College, Columbia, a professor at Madison Area Technical College and an adjunct at the University of Delaware. Services on school boards include The Asheville School, Roxbury Latin School, and Tower Hill School, and associations include the Mid-South Association of Independent Schools, the Association of Independent Schools in Greater Washington (AISGW) and the Association of Independent Schools in Maryland (AIMS).
He is also the author of a number of articles and short stories, three books on education, a collection of essays and homilies, and a novel.
Each Day: A Veteran Educator's Guide to Raising Children
In vibrant prose, Z. Vance Wilson offers insight to anyone, whether parent or teacher, responsible for guiding children on the joyous, difficult, and ever-unpredictable path to becoming their best selves intellectually, socially, morally, and spiritually. With judiciousness, good will, and humor (all sharpened as Head of a leading boys' school in Washington, D.C.), Wilson puts forth a clear set of principles, both practical and idealistic, for adults directing children toward wisdom and joy. An award-winning novelist, Wilson draws on colorful tales from his childhood in the American South; rousing episodes in history; and a remarkable assortment of poems, novels, and biblical readings, to illustrate the challenges children face and to illuminate the ways adults may best reach and teach them.
"As Headmaster, Z. Vance Wilson thinks carefully about what boys must understand about life if they are to become whole, morally and intellectually. He leans against the ephemeral values that surround his students and tries to communicate what is real and enduring. He's their last chance, in a sense, before they're buried by college and adult life.…Wilson writes in the knowledge that his voice will echo in memory for his boys. As his title conveys, it's a message conveyed by Headmaster, and heard by the boys, 'each day.'"
–From the Foreword by David Ignatius, best-selling author and award-winning Washington Post columnist
"Imagine an educator in this self-seeking age who cares about something more important than test scores, college admission, and financial success. Imagine an educator in this cynical age who talks about God, heroism, and self-sacrifice. Z. Vance Wilson is a voice crying in the wilderness of an age in which young people are starved for meaning and thirsty for purpose. Each Day: A Veteran Educator's Guide to Raising Children is a book every parent and teacher should read, mark, learn, and inwardly digest."
–F. Washington Jarvis, Headmaster Emeritus of the Roxbury Latin School and director of the Educational Leadership and Ministry Program at Yale Divinity School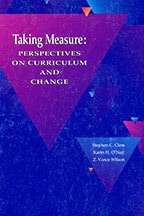 Taking Measure
Taking Measure provides the perspectives on independent school curricula of education experts Stephen C. Clem, Karin H. O'Neil, and Z. Vance Wilson. A useful guide for most schools, the book operates under a broad definition of the word "curriculum," which includes all aspects of a student's growth and learning process. From athletics, to leadership exposure, to multiculturalism, nothing is left out of the scope of the curricular focus in Taking Measure. The book stresses certain values over others, and, eighteen years later, it is interesting to take measure of how this book may have impacted today's prominent educational values.
Paths to New Curriculum
Paths to New Curriculum is a useful guide for how to review and update a school's curriculum. Stephen C. Clem and Z. Vance Wilson recognize the possible barriers to a new course of study and provide schools and administrators with the tools to overcome these obstacles. Following the path laid out by Clem and Wilson will result in a re-energized curriculum that will positively impact the educators, the community, and, most importantly, the students.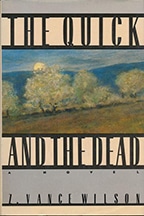 The Quick and The Dead
Opening with quick and intense action that does not let up, The Quick and the Dead is an emotional journey following a devoutly religious family from the American South. The Quick and the Dead focuses on the religious divide between an ardently Christian father and his two sons, Luke and Will. Each maintaining their own unique relationship with the family and with religion, the three men consequently undergo three powerful, different journeys in life. Having grown up a Southern Baptist, Wilson injects his Alabama experience into the novel, giving it an authentic Southern feel that leaves the reader questioning, wondering, and wanting more.
They Took Their Stand: The Integration of Southern Private Schools
Wilson's They Took Their Stand is a thought-provoking discussion of integration efforts in southern private schools from 1963 to 1983 that chronicles the successes, failures, and progress made in integrating schools belonging to the Mid-South Association of Independent Schools. As the opening line of the introduction points out, "This book ends at the beginning." In other words, although much progress had been made by the time of the book's publication, the book itself is a call to action, an attempt to make its audience realize that integration must be an active effort, not only on the part of the school, but also on the parts of students and parents. They Took Their Stand urges everyone to take a stand to wipe out segregation in southern private schools.
Discover how we can help your school.